Welcome. At Third Monday in April. we believe the Right to Run belongs to all of us. Our pieces feature orginal, thought-provoking designs – sent your way by a mother/daughter team.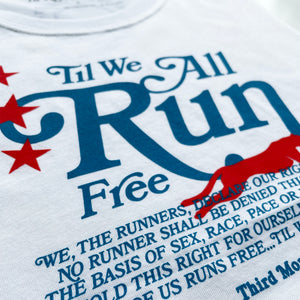 run, white and blue
We believe the Right to Run belongs to all of us. Street, trail or track. Day or night. Black or white. Man or woman.
We also know the America we want to live in is one where we're all welcome. And if the word "freedom" and the colors, red, white and blue have come to stand for something else…well, we're taking 'em back. 
Introducing the star-studded, limited edition Patriot Tank.
join us
The Miles before sunrise collection
Welcome to the full mind and body experience that is (all too often) Running Like a Girl. Let's peek into the mind of an early morning runner – featuring live catcalls, ominous shadows and exhilarating mind trips. Join us if you dare.
Women's tanks and unisex tees in stock now.
I'm in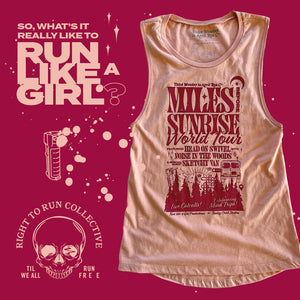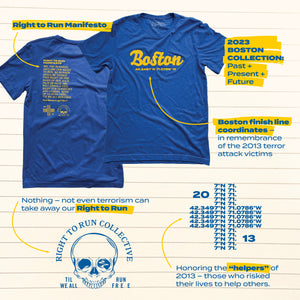 Boston: Past + Present + Future
Tees and Crewnecks are in stock. Performance Singlets ship in March.
For our new Boston Collection, we had the 2013 Boston terror attack on our hearts as we set out to honor those who came forward to help that day. The first responders and regular folks rushing to aid the injured. The Boston residents opening up their homes to displaced runners. The injured sharing their remarkable stories of strength with the world. The running community - whether there that day or not - rallying around the city and each other. 
In these pieces, which feature the Boston finish line coordinates and our Right to Run Manifesto, we proudly state the Right to Run is held by all of us. Nothing, not even terror, can take that away.
Let's go
Til We All Run Free Crewneck
Can any of us run free, til we all run free? This crewneck, part of our Right to Run Collective, explores what freedom really means: who is afforded this freedom in the running world and who still fights for it. 
SHOP NOW
League of women runners
The running world hasn't always been kind to women. Exclusion, bans and crazy rhetoric – "caution, uterus inside!" have surrounded female runners over the years. Of course, women fought the narrative, pushed for change and ran anyways. 
But we wondered, "What if women had been welcomed all along?" 

Would they've had a shirt like this one? A shirt to proudly proclaim that women are – in fact – runners. And pretty darn good ones at that. A shirt uniting all who want in.
Introducing the League of Women Runners. All comers welcome here.
Available in women's and unisex sizes. Tees, Crop Tanks and Flocked Sweatshirts.
Join us
AND YET WE RUN performance tank
Despite all the barriers and b.s. – women have always been runners. We're certainly not stopping now. 

Our And Yet We Run Performance Tank inspires, educates and celebrates the badassery of female runners – past and present. The tank features 70s inspired typography on the front and a timeline of women's distance running on the back. Paired with a lightning bolt pattern and racing stripes, your toughest running route won't know what hit it.
In stock and ready to ship.
ORDER NOW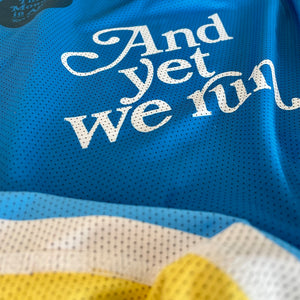 And Yet we run 2.0
Introducing a visual timeline of women's distance running where design tells the story of: struggle meeting strength, old meeting new and barriers meeting boldness.

Because there is power in knowing and owning our story. Join us on a graphic exploration that brings history – and your next run – to life.
Back in stock now!
I'm in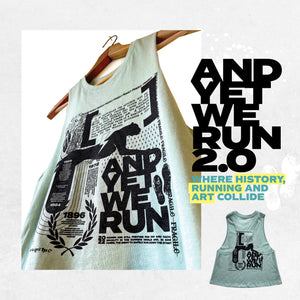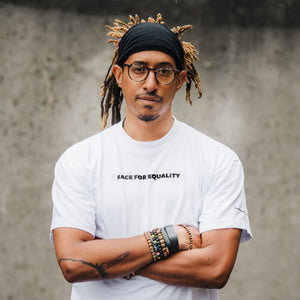 Race for Equality
We believe in a world in which we can all run free. We aren't there yet. Racism, misogyny, discrimination and poverty make it so that only some of us can safely run down the street. Examples abound.
Take the 150% rise in Asian American hate crimes in 2020 or the 84% of women runners who reported being harassed while running last year – and you quickly realize scores of Americans fear simply lacing up their running shoes. A Black man was murdered by two white men in Georgia while jogging down the street.
Look deeper and you'll find more reasons we aren't all free to run. Gender and racial pay gaps contribute to income inequality, which means only some of us have resources to enter races, buy running shoes or take the time to focus on personal pursuits like running.
shop now
Curious about our name? Third Monday in April pays homage to the day the Boston Marathon is held every year - the third Monday in April. You might say, one of us is a little obsessed.